Release Blitz - Tied By Carian Cole
Tied, the anticipated follow-up to Torn, by Carian Cole is NOW LIVE!
He's the only one that has ever made me feel. And I want to make him feel, too.
FREE with Kindle Unlimited!
He was the myth and the legend of our small town. But no one knew the truth... except me.
My childhood was stolen by a monster. I've forgotten what love feels like. What happiness feels like. What hope feels like. I am numb.
He's possibly as damaged as I am. Maybe even more. Scarred just as much on the inside as the outside. Just like me. He doesn't speak. He doesn't smile. He hides in the woods like an animal. I should be scared of him. But I'm not. He's the only one that has ever made me feel. And I want to make him feel, too. everything...
Read Torn, the first book in this series (all can be read standalone)
I have a passion for the bad boys, those covered in tattoos, sexy smirks, ripped jeans, fast cars, motorcycles and of course, the sweet girls that try to tame them and win their hearts.
My first novel in the best-selling Ashes & Embers series, Storm, published in September of 2014. I have many books and sequels slated for this series. My new spin-off series, Devils Wolves, launched in 2016 with the best-selling novel, Torn. There are several books planned for this series as well.
Born and raised a Jersey girl, I now reside in beautiful New Hampshire with my husband and our multitude of furry pets and spend most of my time writing, reading, and vacuuming.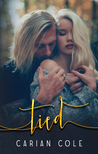 Tied
by
Carian Cole
My rating:
5 of 5 stars
I've read all of Carian Cole's previous books and was impressed but I honestly swear they keep getting better and better. I absolutely loved Tied!
This is the second book in the Devils Wolves series, the first being Torn. This series spins off from the Ashes & Embers series. It can, however, be read as a complete stand alone. You'll probably want to read the others though, lol.
This is a highly emotional story following two broken souls, Tyler and Holly. They've both had some pretty horrific things happen to them and are dealing with them in their own ways. They're not really dealing though, more going through the motions. Putting up a front for the rest of the world to cover the hurt inside.
Little did Tyler now that the day he heard a strange noise and investigated, it would change his and Holly's lives in a way neither could've envisioned.
Tyler surprised me. We've seen glimpses of him before, the hermit that hides in the woods, and I wasn't too sure what to make of him. He turned out to be so much more and so much better than I ever could have imagined. I love a tortured hero and not many are better IMO. My heart broke for him and I was desperate for him to be happy.
I also loved Holly. She had a quiet strength and a beautifully sweet inner optimism that refused to be beaten, even with all the awful things she'd had to endure. She was perfect for Tyler.
Some parts of this book are hard to read and deeply emotional but are emperative to the overall story and the growth of the characters. It was a hard journey at times but it made outcome that much sweeter. The writing was excellent and I was completely invested in the characters and their lives.
I loved this and can't wait to read more from this author. Recommended.
Calling All Bookaholics :)
View all my reviews